This Sunday will see over 40,000 people attempt to run a 26.2 mile course through the streets of London. It will also see Bitcoinist pack a marathon week of news into the much more easily attempted list of past week's top bitcoin stories. 
---
Bitcoin Price Pulled In Opposing Directions
The past 7 days saw a price spike midweek, bringing a new 2019 high as resistance at $5600 was broken.
Everything looked rosy, as we saw the first Golden Cross (where 50-day moving average overtakes 200-day MA) since 2015. Several prominent analysts flipped to the bullish side, including Murad Mahmudov, who now believes there's a 75% chance the BTC/USD bottom was in.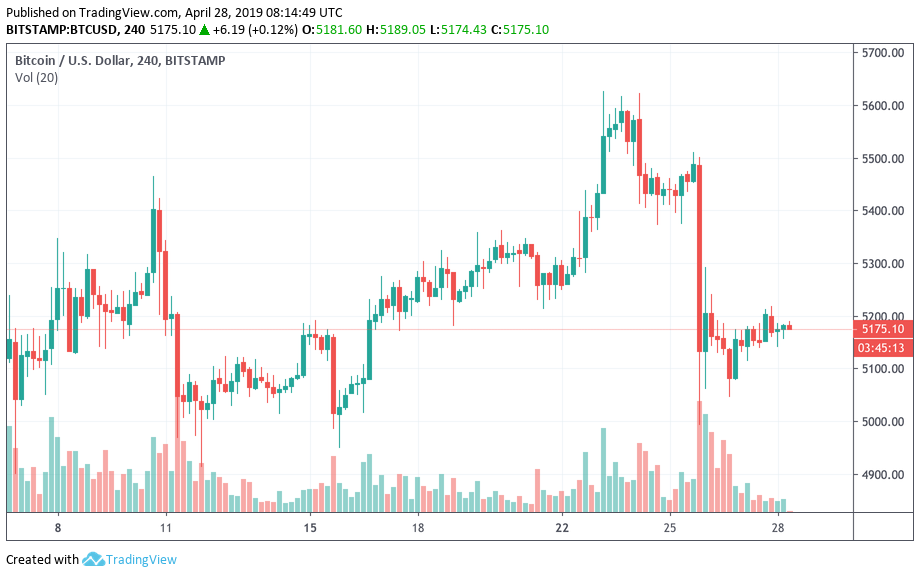 And then the New York Attorney General made a public filing against Bitfinex, accusing it of covering up a $850 million hole in finances by borrowing money from Tether reserves. Bitfinex refuted the claims as 'riddled with false assertions', but the damage had already been done.
Traders pulled $165 million out of the exchange in just 12 hours. The knock on from this reversed the week's earlier gains and left BTC price roughly where it started the week.
Still. we can always take solace in the fact that bitcoin price [coin_price] is already outperforming most stock indices and commodities in 2019. Or perhaps this is an opportunity to look further than BTC, and consider some of the altcoins that have outperformed it this year?
Although of course, being Bitcoinist, we wouldn't bet on anything but Bitcoin in the longer term.
Mainstream Making Moves Into Crypto
News spread that sportswear giant, Nike, intended to launch its own cryptocurrency, as it filed a patent trademarking the brand, 'Cryptokicks'. But this was eclipsed by Disney's potential headlong dive into the crypto-sphere. An equity battle involving a South Korean gaming giant could end up with Walt Disney Co. owning two major cryptocurrency exchanges.
Meanwhile, rapper Lil Pump, lived up to his name by accepting Lightning Network payments through his online store. And Australians can now buy hot meat packets using LN payments at a fast-food chain, Origin Kebabs… if they so wish.
Bitcoin Making Institutional Inroads?
This week saw rumors of not one but two giant brokerages moving into the crypto-market. Firstly, $1 trillion company, TD Ameritrade was caught testing BTC and LTC spot-trades through NASDAQ. This was followed by reports that eTrade was also soon to launch BTC and ETH trading for its 5 million customers.
2 Sides Of Completely Different Political Coins
In the political arena, we saw Ukraine overwhelmingly elect a new president in the form of comedian, Vladimir Zelenskiy. But this was no laughing matter; no sooner than gaining power, he was promising 'blockchain, not bribes', with a plan to deploy the technology through state structures and beyond.
On the other hand, Venezuela's President Maduro was still shilling his state-issued (and supposedly oil-backed) cryptocurrency, the Petro. He issued an open plea to international investors willing to part with hard currency in exchange for his ropey old shitcoin some of it.
Well if your own citizens prefer bitcoin then you'll have to look for fools elsewhere, Nic.
What was the most important Bitcoin story of the past week? Share below!
---
Images via Shutterstock, Tradingview.com
Source: https://bitcoinist.com/bitcoin-price-lil-pump-bitfinex-top-stories/