Mark Twain said, "During the gold rush it's a good time to be in the pick and shovel business." Why? Because pick and shovel businesses make money even when the people who use them don't find gold. This is a perfect metaphor for how to make money in crypto irrespective of the volatility.
---
In this case, the pick and shovel businesses are the exchanges, wallet providers, and all the other crypto service providers. Unfortunately, most of these companies are private and therefore not open for investment. But, there are some exceptions…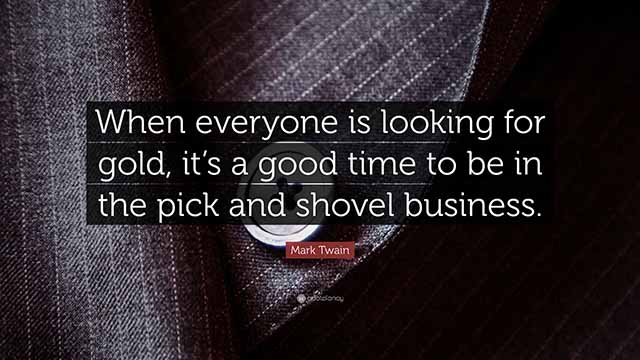 FinLab – German Listed Investment Company
Over the past five years, FinLab-shares (Bloomberg A7A:GR) have increased tenfold because FinLab focuses on investments in these pick and shovel-esque crypto service providers. For example, FinLab has a 25% stake in the Bitcoin/gold trading platform Vaultoro, a company whose business has grown dramatically over the last six months on the back of the crypto boom. Furthermore, FinLab recently announced their stake in Iconiq Lab, the world's first batch-controlled initial coin offering (ICO) and token sale accelerator program. According to industry rumors, they are also working on a cryptocurrency investment bank.
FinLab is part of Christian Angermayer's empire. The German serial investor and entrepreneur is tipped as Germany's No. 1 powerbroker in the financial services and technology space. Angermayer was responsible for recruiting Peter Thiel as a co-investor in two of FinLab's portfolio companies – the deposit platform Deposit Solutions, which quickly became one of Europe's most valuable fintech startups, and nextmarkets, a social trading platform. He also orchestrated the Chinese HNA Group's 9.9% stake in Germany's largest lender, Deutsche Bank.
It is clear that Angermayer, whose investment holding Apeiron Investment Group is headquartered in Malta, has a fantastic global network, which consistently delivers exceptional returns.
Easy Access to the Crypto World
With a diversified portfolio investing in service providers, FinLab offers a unique opportunity to profit from the cryptocurrency boom with at the same time an attractive downside protection. This is especially true for entities who aren't able to invest directly in cryptocurrencies and/or fear it's volatility.
Do you think the real money to be made in crypto stems from investing or providing services to investors? Tell us what you think in the comments below.
---
Images courtesy of Shutterstock, QuoteFancy
Source: https://bitcoinist.com/make-money-cryptocurrencies-irrespective-volatility/