Recently Reddcoin has been making some serious market gains, both in volume and in price with a 24 hour volume of $578,183 and price of 41 Satoshis at its peak. This wasn't a sudden growth either, as you can see by the following graph that shows Reddcoin price as well as volume over the last 3 months.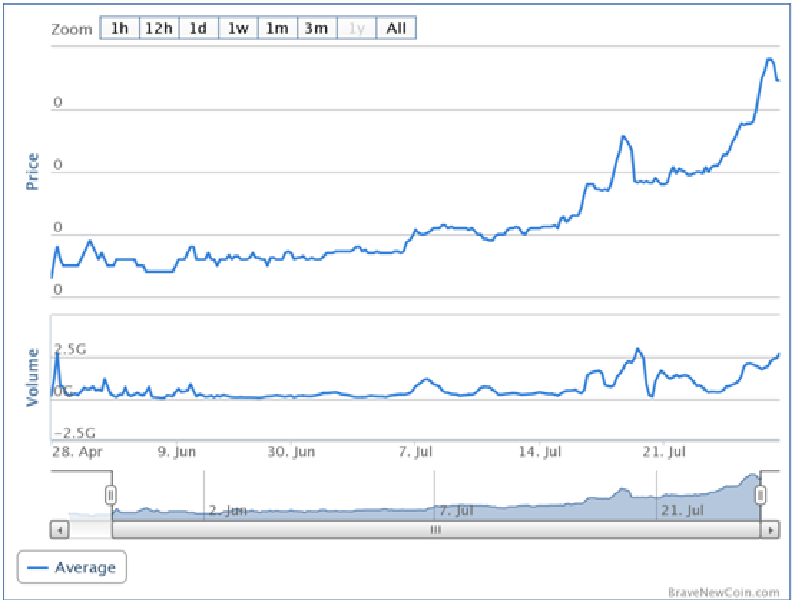 As you can see, over the last 3 months, Reddcoin has been steadily gaining both volume and price, with prices normally being around 6 Satoshis, to a current market weighted average of 34 Satoshis, a 566% increase in price at peak.
Volume as stated before, has increased as well in the following months. With the volume typically being around 300-500 million Reddcoin for 24 Hour volume, that has increased by roughly approximately 640%, to what is now a current 2.63 billion Reddcoin for the 24 Hour transaction volume.
In USD terms, this is more than double of Dogecoins $250K volume, dwarfing many of the  top 10 coins, besides Bitcoin and Litecoin at 49 million and 39 million respectively.
The fact that it's being traded on Cryptsy, Mintpal, as well as BTC100 and BTC38 ( Chinese markets) allow for Reddcoin some major liquidity and volume allowing for this price growth to occur so freely and with such stability.
It even became equal Dogecoin in price, at one point surpassing it.
Now that the price of Reddcoin has corrected, subsequently price and volume has decreased. Price is still several times greater than 3 months ago, with volume still in the $200,000 range.
Which comes back the main question you should be thinking. What is fueling this movement, this push?
I believe it is a combination of the features and timing, mostly due to the expected algorithm transition to PoSV on August 2nd, as well as the block halving that are coming with it.
This combination of consistent block halving (reduced supply), new features (buy pressure) and PoSV transition ( incentive to hold, as you gain 5% interest) means there is less downward pressure from miners dumping coins, and more from investors that want to buy, and hold.
This is typical of coins transitioning to POS, the sudden supply reduction usually incites a price increase soon after. Take a look at Darkcoin, comfortably sitting at number 3 on the BNC index. Where was it before it cut the total supply to 22 million coins, as well as the current deflationary block reward around 4 per block?
On top of it being one of the first anonymous coins, it got some serious market movement, just like what Reddcoin is getting right now.
Reddcoin if you don't already know, is more of a coin with a goal to become the social currency, like the aforementioned Dogecoin. That does not mean you should take this coin seriously.
With a solid community, features, and a clean record, I find it quite easy why Reddcoin has broken the top 10 coins when it comes to the BNC index. It has a fast adoption rate, social networks integration, and had one of most successful IPO's, allowing for excellent coin distribution.
This also has stopped most of the rumors and gossip that usually spreads through Twitter, with Reddcoin only going through a minor correction currently, which I see easily being fixed when PoSV does come out.
With strong buy and sell walls, Reddcoin can go either way; hype and excitement for upcoming features can only go so far. If they can deliver on these promises however, Reddcoin could be much higher than where the price and volume is currently at.
Little bit over a week later, and Reddcoin seems that it cannot maintain the price, the market was overextended. Reddcoin has slowly sunk into the 20-30 range again on Coinmarketcap.
Source: https://bitcoinist.com/reddcoin-major-market-movement/