Soccer fans will now be even more aware of newly rebranded SportyCo as the platform has secured a sponsorship deal with La Liga competitor, RCD Espanyol.
---
SportyCo has been making waves in the sports industry for all of the right reasons as they work towards democratizing the industry by making it inclusive for all through their blockchain-based platform.
Now, they can add one more goal to their scorecard. The platform announced on Friday that they have just signed a sponsorship with leading Catalonian soccer club, RCD Espanyol.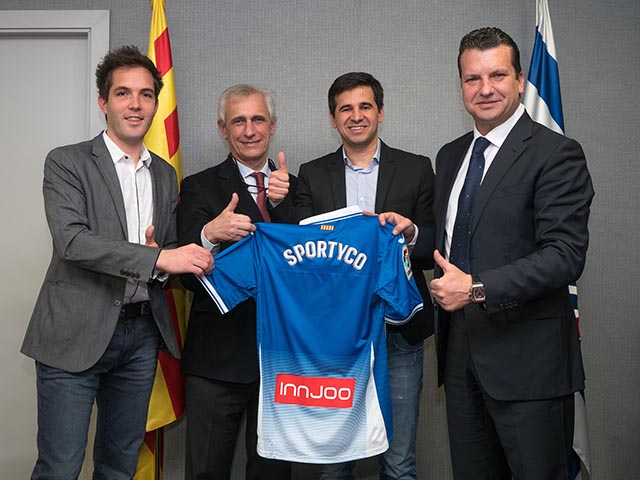 SportyCo Will Experience Global Reach
This is a great way to for SportyCo to create global brand awareness, a fact that the platform's co-founder and CEO, Marko Filej, is well aware of:
We are dedicated to helping young athletes to find enough resources to continue their sporting career.  We want to be present all over the planet and we consider that Espanyol is a globally recognized brand, so this sponsorship will help us to grow and be better known everywhere.
Fans will have a chance to see this new partnership for themselves this Sunday, the 22nd matchday, when RCD Espanyol will be hosting local rivals, Barcelona.
The SportyCo logo will be proudly displayed on the left sleeve and shorts of RCD Espanyol's first team's kits.
Inclusion Through Disruption
The blockchain-based platform aims to disrupt the restrictive nature of the multi-billion-dollar sports industry by offering an equal opportunity for both sports professionals, and investors interested in contributing towards training and other financial requirements.
Essentially, the decentralized platform is a place for these professionals to network and connect, and in doing so, fight against the financial constraints preventing promising players from making it in their respective fields.  This exclusion is not only a disappointment to these professionals, but also to their chosen sport as they are losing exceptional players due to lack of funding.
Potential investors will, therefore, be an integral part of the SportyCo ecosystem as they will be able to contribute to and solve the funding issue.
The blockchain-based platform will make use of smart contracts to facilitate both sponsorship deals and investments between contributors and sports professionals, showcasing once again that blockchain technology can be integrated into so many other industries in addition to cryptocurrencies.
The platform does, of course, have its own currency, the SPF token, which will be used during crowdfunding initiatives and to pay for any additional services offered by SportyCo in the future.
Big Names for a Good Cause
In addition to its sponsorship news, SportyCo has also recently announced that longtime ambassador and soccer legend, Roberto Carlos, has upped his game and is now the platform's Partnership Manager.  The new role will see Carlos fostering partnerships between SportyCo and sports organizations all around the world.
SportyCo's platform is scheduled to launch at the end of March this year, and there are still tokens available for those hoping to be a part of this exciting initiative.  Until then, why not catch the game on Sunday and see for yourself how SportyCo is already making its mark in the sporting world?
What do you think about blockchain-based SportyCo's sponsorship deal with RCD Espanyol?  Let us know in the comments below!
---
Images courtesy of SportyCo
Source: https://bitcoinist.com/sportyco-scores-big-rcd-espanyol-sponsorship/