This Silicon Valley company is running a successful token presale and is backed by a real business.
---
One tech company wants to create real jobs for real people with the help of blockchain. Even though SyncFab is based in Silicon Valley, the company founders believe they can add new industrial jobs in Middle America, among other regions. Their plan is to connect machine shops and manufacturers over the newest technology.
The ultimate goal is to create a blockchain marketplace where machine-shop operators and their customers can connect instantly and seamlessly. That is supposed to generate more jobs for working-class people in machine shops. It is also intended to create more American jobs by speeding up the process.
"If you want a product made in the United States, you can either start searching now; and in two years find somebody, or just go directly to SyncFab, which is where you are going to end up anyway," says Brad Butler, the cofounder of the Bicycle Coffee Company, a SyncFab customer.
Connecting Silicon Valley and Main Street on the Blockchain
A major goal at SyncFab is to connect Silicon Valley and Main Street over the blockchain. SyncFab will create a direct, instant connection between high-tech manufacturers, local factories and machine shops.
An example of this would be an electronics company in San Jose that needs some CNC laser cutting done. It needs the work done fast, but all the local machine shops with laser cutters have backlogs of work. Meanwhile, a machine shop in Pueblo, Colorado, has a CNC laser cutter that is gathering dust.
Using the SyncFab platform the manufacturer in Silicon Valley would post a job on the blockchain. The machine-shop owner in Pueblo would be able to bid on the laser-cutting job; and if she got it, fill the order and ship the finished products to San Jose fast using UPS or FedEx.
The manufacturer would go along with the process because he or she would be able to monitor everything including quality control in real time over the blockchain. The machine-shop can get instant payment in cash via electronic funds transfer (EFT), or even request a paper check.
"SyncFab revolutionizes the manufacturing supply chain by connecting buyers directly to hardware manufacturers through blockchain," says SyncFab co-founder Andy Tong.
This can create manufacturing jobs at both the machine shop and the manufacturer. Other jobs would be created in shipping, delivery, truck driving, and shipping and receiving. Money might be transferred directly from Silicon Valley to depressed industrial areas like Pueblo.
SyncFab hopes to attract manufacturers with promises of lower-minimum costs, fast production, real-time updates, and ISO 9001 industry-certified machine shops. Machine shop owners would get fast payment to cover bills and meet payrolls. SyncFab customers would have a choice of using the company's MFG Ethereum-based token or the U.S. Dollar for payment.
That means a machine-shop owner will be able to pay the rent or the electric bill; or cover her payroll, with funds from the SyncFab platform. It gives business owners on Main Street a strong incentive to participate in the blockchain.
This Blockchain Company is making Real Products in the Real World
The most interesting thing about SyncFab is that it is actually manufacturing real products in the real world.
There is a page on SyncFab's website where you can see the lathes, mills, and other machines at shops in SyncFab's manufacturing supplier network. These machines use a proven technology called computer-numerical control or CNC to manufacture parts for Fortune 1000 companies. SyncFab's supplier network includes manufacturers who have worked with customers including Alphabet or Google, Tesla Motors, Amazon, the U.S. Department of Energy's Lawrence Livermore National Laboratory, and Lockheed Martin.
SyncFab is actually taking orders for real products from real customers right now. It is also accepting payment in real money.
Reshoring Jobs to America
SyncFab is demonstrating that is possible to combine blockchain and manufacturing and create jobs in the process. SyncFab's other great ambition is to bring manufacturing jobs back to America, and save the planet in the process.
"The primary mission of SyncFab is to foster reshoring," – says co-founder Jeremy Goodwin." We believe that manufacturing locally is best for the planet as Governments and People care more how things are made when manufactured locally as opposed to "out of sight, out of mind."
The hope is to reduce pollution and the use of resourcing by manufacturing locally. To build parts in America rather than across the ocean, which reduces the need for ships that burn fossil fuels.
To this end, SyncFab is working with the U.S. Department of Energy's Clean Energy Smart Manufacturing Innovation Initiative and the cities of San Leandro and San Francisco. A long-term goal at SyncFab is to encourage work from home, startup entrepreneurship, and small businesses.
To achieve these lofty goals, SyncFab has created a Virtual Supply Chain Procurement Program to service small organizations. Another goal is to create a network of machine shops that can serve businesses and organizations of all shapes and sizes.
Separate programs work with research facilities, hardware startups, purchasing departments, engineering departments, and large companies. Businesses can gain free access to try SyncFab's supply-chain management solutions online.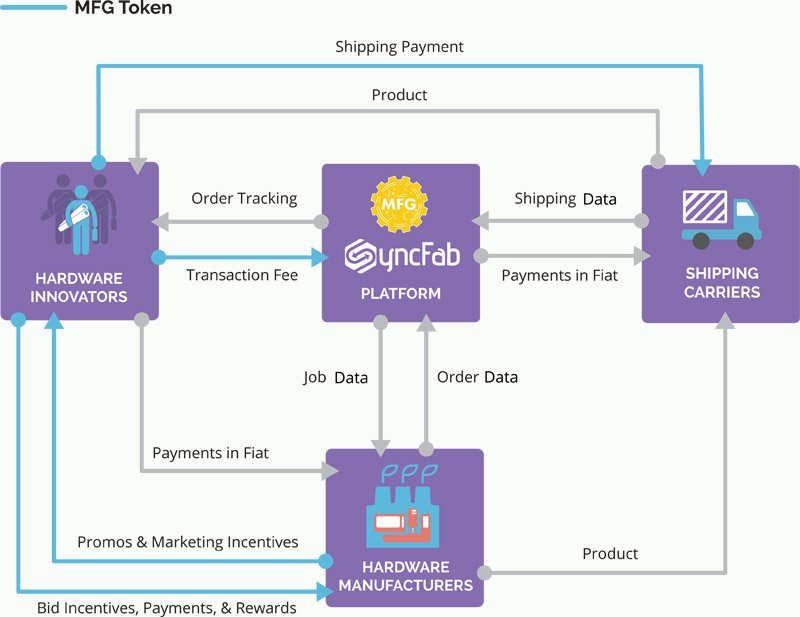 The Beginnings of a new Blockchain-Based Job Market
The combination of blockchain and industrial equipment being pioneered by companies like SyncFab is likely to give rise to a new job market.
The market will combine characteristics of both traditional skilled trades and the gig economy. There might be more work but much of it will be done on a contract or gig basis rather than as salaried labor.
A likely outcome is a fusion of the two processes. An example of this would be a CNC Milling Machine that would fill orders through the SyncFab blockchain.
Jobs that might be created by these developments include CNC machine operators, and technicians to service and repair the machines. Other jobs would be generated by the money that those individuals would spend in their communities.
Public MFG Token Presale is Now Live
SyncFab is currently running its MFG Token presale until February 15, 2018 (12 AM PST). The presale allows participants to obtain MFG Tokens with a 25% bonus. The MFG Token is a utility token used to reward purchasers and manufacturers, make payments, protect intellectual properties, promote trust and transparency through the execution of smart contracts on the blockchain. The main token event will begin right after the conclusion of the presale; the soft cap is set at $15M and the hard cap is $30M. The total supply of MFG tokens for the event is 1 billion.
The company reports that it was able to build a strong following and expects to reach its targets ahead of schedule. Some of its social media channels, such as Telegram, have over 9,000 active users. Various ranking sites and experts have recently praised SyncFab and its expansion into blockchain. TrackICO gives it a 5/5 rating, and Aingel Blog (Amr Shady) posted the Inception Score of 97%. Prestigious ICO Bench is giving the Silicon Valley company a 4.3 ranking. Meanwhile, SyncFab is preparing to make several announcements on partnerships in the upcoming weeks.
For more information about SyncFab, please visit: https://syncfab.com. More information about the presale and the upcoming main token campaign can be found here: https://blockchain.syncfab.com/.
Do you plan on taking part in the MFG Token presale for SyncFab? Let us know in the comments below.
---
Images courtesy of SyncFab.
Source: https://bitcoinist.com/syncfab-to-create-manufacturing-jobs-through-blockchain/